West Auckland's Yugoslavian population is famous for its wine making and market gardening. George Glucina wanted to follow the family tradition but in 1952 his entire Oratia tree tomato crop was wiped out by a viral infection. This forced him to seek work elsewhere to support his wife.
A friendly neighbour, Harold Bassett, offered him a job in his foundry and ingot making business. George gratefully accepted.
Ingot making was a low-tech affair in those days, and George learned the basics quickly. He was an entrepreneur at heart and in 12 months, with borrowed equipment and Harold Bassett's blessing, he started up his own business melting brass and bronze.
His furnace was a 150lb capacity brass crucible heated with a gravity fed diesel fueled burner. There were no fuel deliveries in those days. George had to drive in to the city once a week to collect two 44 gallon drums of diesel.
For 10 years George and his wife Marge ran the business together, with Marge helping him pour and knock out the ingots. His first job, he recalls, was supplying brass ingots for Pressure Diecasters Ltd. Two years later he supplied his first aluminium customer, Jack McDermott at McDermott & Linn.
In 1967 Tony Trubuhovich, the current Managing Director, joined the firm. John Burrows joined in 1969. The newcomers didn't join as white collar workers, they were taken on to assist George with melting in the plant. It was difficult, dangerous work but the dangers were accepted as "part of the job" in those days. Nowadays the highest possible levels of health and safety are maintained throughout the plant.
Glucina Smelters prospered through the 1970s and eighties, growing with the country's casting industry, acquiring more and more advanced plant, and developing new technology.
The company made a breakthrough in the 1980s when it began remelting aluminum alloy wheel turnings for the Cheviot wheel company and in 1984 won a similar contract from Ford New Zealand, eventually becoming the first company to pass Ford's Q-101 quality standard for suppliers.
Glucina Smelters built their own factory in 1983. An in-house Emission Spectrometer was installed in 1986, and a 3 tonne sloping hearth reverberatory furnace in 1988.
Another milestone was reached in 1991, with the establishment of the company's TELARC registered laboratory for chemical testing. This was followed in 1992 with the installation of an 3-tonne electric induction furnace and rotary kiln drier. This increased production, improved the quality of the ingot and cut the melt loss by half. That year the company won a highly commended award in the ETA awards for energy efficiency and productivity in the industry.
The firm had by the 1990s become a major operation employing 30 employees and suppling 80% of the NZ foundry non-ferrous ingot needs with exports to Australia and Asia.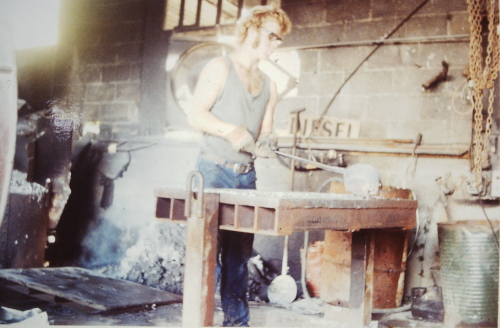 John Burrows ladling at Glucina foundry (c. 1970s).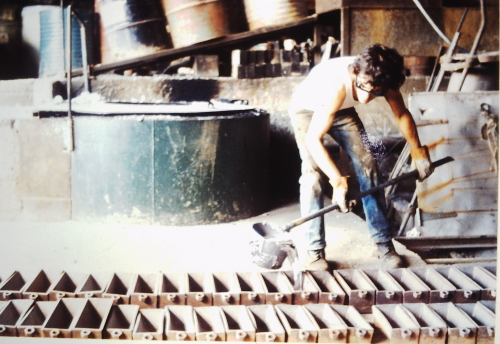 Jim Trubuhovich (brother of Tony Trubuhovich) ladling at Glucina foundry (c. 1970s).